Corporate Governance
Corporate Governance
At KURODA ELECTRIC, in order to fully realize our management philosophy and further raise the value of our enterprises, we consider corporate governance to be an issue of prime importance. It is to this end that we conform to the corporate governance codes established by the Financial Services Agency and the Tokyo Stock Exchange, and strive to follow healthy management systems, to strengthen internal controls, and to preserve administrative transparency through the timely and pertinent disclosure of information.
Additionally, we at KURODA ELECTRIC consider compliance to be a vital foundation to fulfilling our social obligations, and recognize thorough compliance as an indispensable element of business operations. As we strengthen corporate governance, we are also proactively addressing compliance management.
It is for this reason that we have established the KURODA ELECTRIC Group Compliance Code of Conduct, a set of principles which all officers and employees are required to follow in the course of business. At KURODA ELECTRIC we define the issue of compliance broadly, comprehending not only adherence to laws and internal regulations but also to greater items such as corporate ethics. Thus, the Code of Conduct becomes a concrete standard for the professional behavior in business operations that all group member officers and employees must comply with.
As a company with nominating and other committees, Kuroda Electric appoints multiple outside directors who are highly independent and free from conflicts of interest, in terms of capital, power, influence on operations and economic dependence vis-à-vis remuneration, striving to strengthen external oversight and ensure transparency in decision making.
The separation of execution and supervisory functions is fundamental to the management of corporations that have adopted a committees system, including a nomination committee. At KURODA ELECTRIC, this means that the right to direct management of corporate affairs is transferred to the president and other executive officers, while the Board of Directors overlooks their operations.
Furthermore, five of seven directors appointed are outside directors. The four out of five outside directors fulfill the requirements for Independent officers laid out by the listing rules for the Tokyo Stock Exchange and who have submitted Independent Directors/Auditors Notifications to the exchange.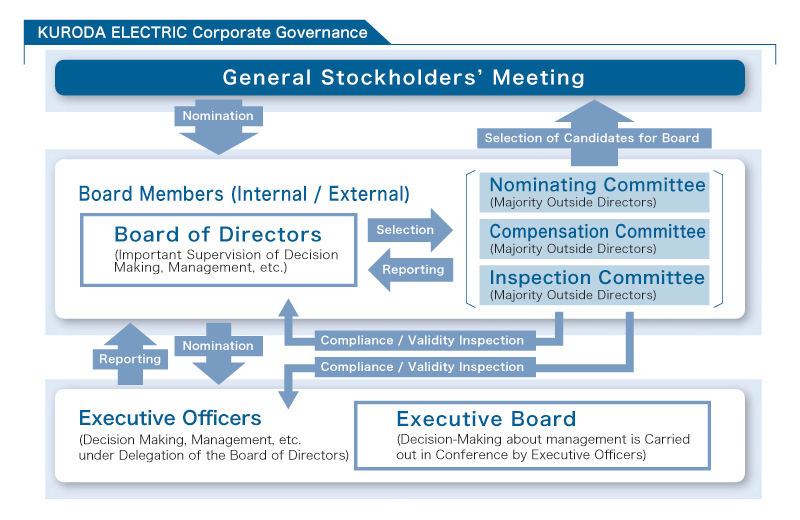 Policies on the Approach to Corporate Governance
Kuroda Electric Co., Ltd. (the Company) has prepared corporate governance policies for the purpose of implementing and understanding its current status of implementation, corresponding to each principle of the Corporate Governance Code ("the CG Code") set up by the Tokyo Stock Exchange for listed companies. The Company would like to share its views and efforts made on corporate governance with every stakeholder, and attempts to further enhance and improve its effort on corporate governance in the future.